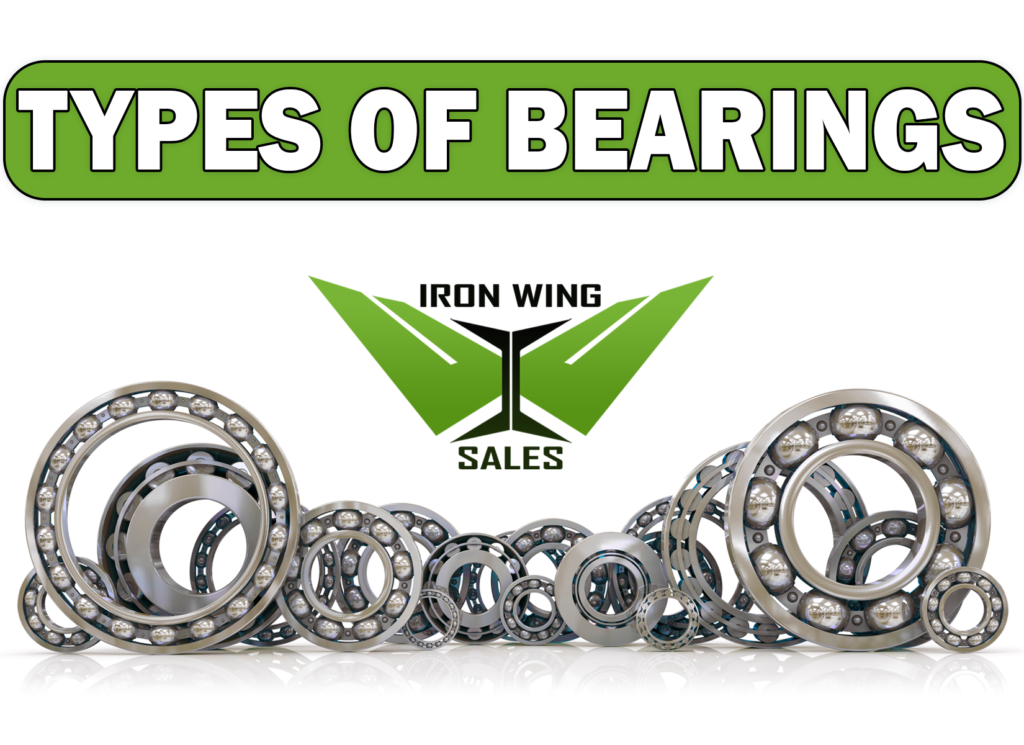 Rolling bearings are indispensable components used in a wide range of mechanical systems, enabling smooth and efficient motion while reducing friction. They come in various types, each tailored to specific applications. In this blog post, we will provide an overview of some of the most common rolling bearings, including ball bearings and roller bearings, their respective types, and their proficiencies in handling forces, speeds, and loads.
Rolling bearings are mechanical devices that consist of an inner ring, an outer ring, rolling elements (balls or rollers), and a cage. They are used to support radial and/or axial loads, facilitate rotational or linear motion, and reduce friction between moving parts. Rolling bearings find applications in automotive, aerospace, industrial machinery, construction, agriculture, mining, medical, waste management, and many more industries where smooth motion and load-bearing capacity are crucial.
Axial vs Radial Loads
A key point of comparison between different types of bearings is their ability to handle loads. A load is simply the force applied to a bearing. These loads can be radial or axial. Radial loads are loads applied perpendicularly to the shaft, while axial loads are loads applied in the same direction of the shaft. A combined load is one that applies both radial and axial forces to the bearing. Different bearings have varying load handling capabilities.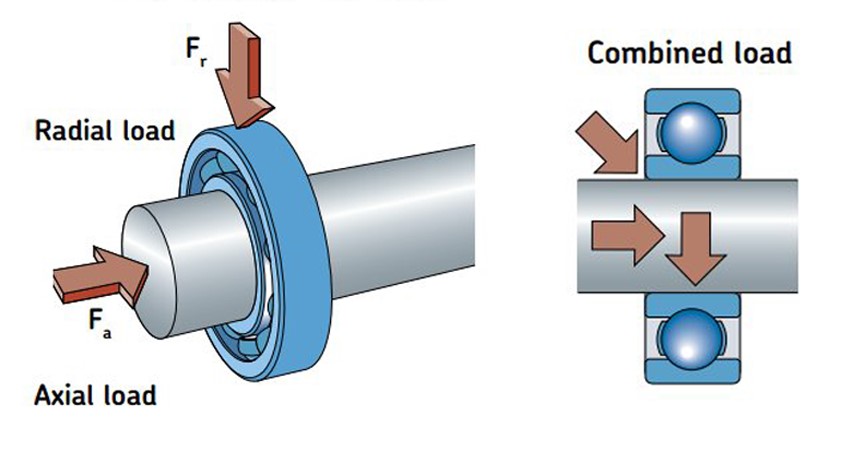 Ball Bearings vs Roller Bearings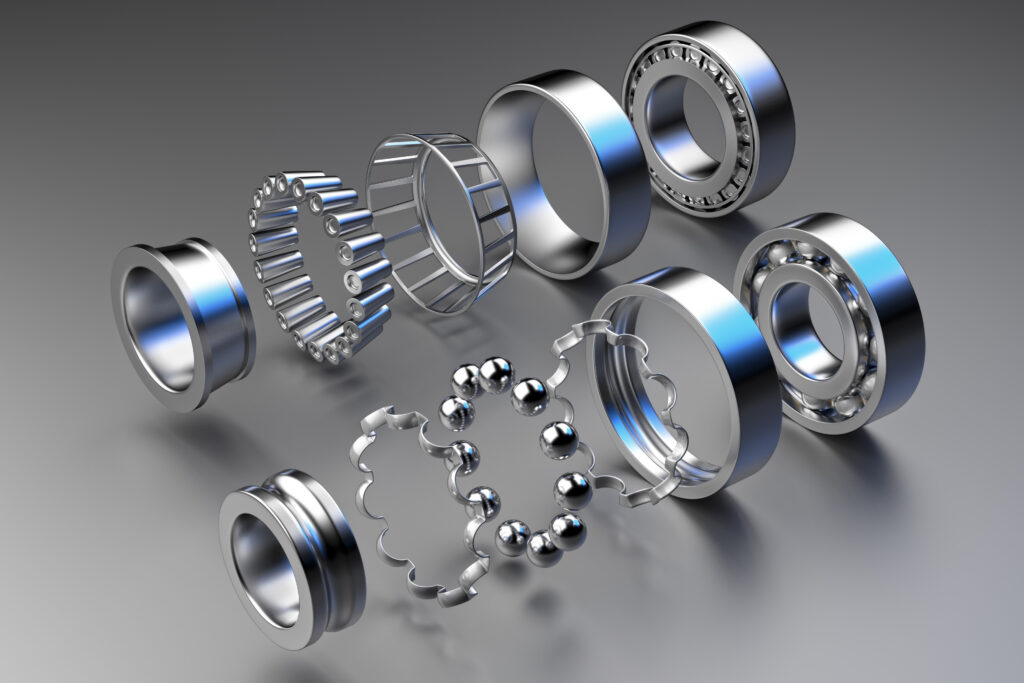 Ball bearings and roller bearings are two distinct types of rolling bearings with key differences in their design and functionality. Ball bearings utilize steel balls that roll between the inner and outer raceways to facilitate motion. They offer low friction and excellent high-speed capabilities. While ball bearings excel in high-speed applications, roller bearings are preferred for heavy-load situations. Roller bearings use cylindrical or tapered rollers to support loads. The larger contact area of the rolling elements allows roller bearings to provide more rigidity, stability, and a higher load-carrying capacity than ball bearings.
Ball Bearings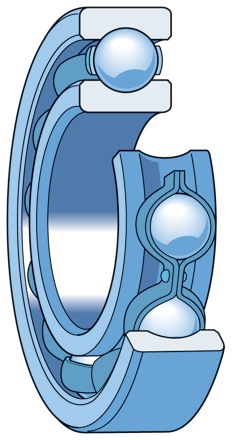 Deep-Groove Ball Bearings: Deep-groove ball bearings are the most common type of ball bearings. They have deep raceway grooves, enabling them to handle both radial and axial loads. Their low torque makes them proficient in high-speed applications. Deep-groove ball bearings are easily maintained and not overly sensitive to operating conditions, making them well-suited for a variety of applications.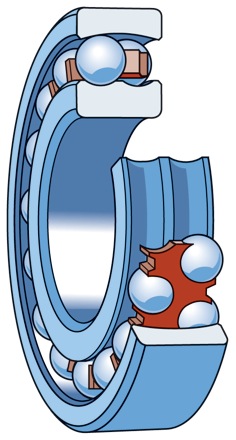 Self-Aligning Ball Bearings: Self-aligning ball bearings consist of two rows of balls guided by a cage and a double row inner ring raceway. Due to their construction, these bearings have the ability to accommodate misalignment between the shaft and housing, making them suitable for applications with a possibility of shaft deflection or misalignment. They offer good radial load capacity and are commonly used in applications with moderate speeds.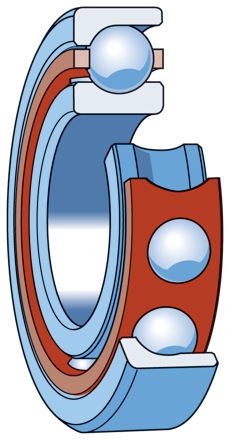 Angular Contact Ball Bearings: Angular contact ball bearings can handle handle combined loads due to their construction. Their inner and outer ring raceways are displaced relative to each other in the direction of the bearing's axis. The axial load carrying capacity increases as the contact angle (the angle between the line joining the points of contact of the ball and the raceways in the radial plane and a line perpendicular to the bearing's axis) increases. This design enables them to withstand high axial loads in a single direction while also offering good radial load capacity.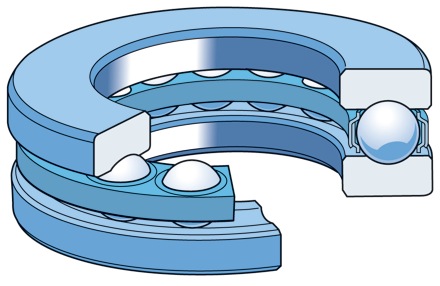 Thrust Ball Bearings: Thrust ball bearings are designed to handle axial loads only and should not be subjected to radial loads. They are available in single and double direction designs. Single direction designs consist of two grooved washers (shaft and housing washers) with rolling elements (balls) in between. Double direction designs have three washers and two ball and cage assemblies, which are separated by the shaft washer. Thrust ball bearings have components that are easily separable and interchangeable, and are best used in low speed applications.
Roller Bearings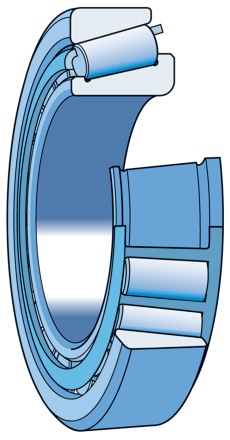 Tapered Roller Bearings: Tapered roller bearings can handle combined loads in a single direction. They have cone and cup-shaped raceways that enable efficient transmission of radial and axial forces. Tapered roller bearings can be combined into two or four row configurations that allow them to handle combined loads in either direction. Tapered roller bearings are best for medium speed applcations with combined loads.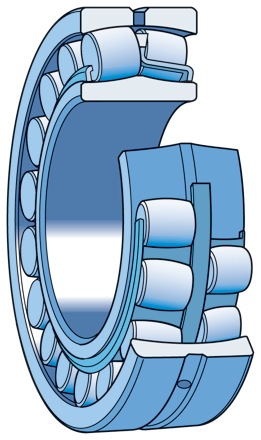 Spherical Roller Bearings: Spherical roller bearings are designed to handle heavy radial loads and moderate axial loads. They are designed similarly to self-aligning ball bearings, but use spherical rollers as the rolling elements. This allows them to compensate for misalignment. They have a barrel-shaped outer ring with two rows of rollers and can be either open or sealed. Spherical roller bearings excel in applications with high speeds, heavy loads, and shock loads.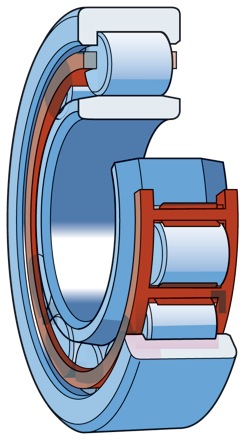 Cylindrical Roller Bearings: Cylindrical roller bearings have a very high radial load capacity and moderate axial load capacity, depending on their configuration. They consist of cylindrical rollers and are suitable for applications with high radial forces and high speeds, while also being able to withstand shock loads.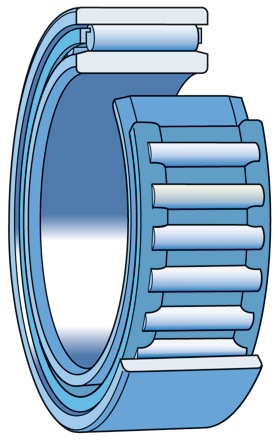 Needle Roller Bearings: Needle roller bearings have slender cylindrical rollers that offer high load-carrying capacity in a compact design. They excel in applications with limited radial space and high radial load requirements, but are not designed to handle axial loads. The rolling elements are multiple times longer than their diameter, up to 10x in some designs. Needle roller bearings are best used in applications with limited space and high radial loads.
That is a basic introduction to some of the most common bearings used. Understanding the different types of bearings and their proficiency in handling forces, speeds, and loads, helps in selecting the most suitable bearing for specific applications. By considering these factors, engineers and designers can ensure optimal performance, durability, and efficiency in their machinery and systems.
Bearings at Iron Wing Sales
Looking for replacement bearings? Iron Wing Sales carries a large inventory of bearings to support the Construction, Mining, Heavy Duty Truck, Forklift/Lift Truck/AWP, Forestry, Industrial Electrical, and other markets. We carry major manufacturers such as SKF, Timken (Torrington, Fafnir), FAG, NTN, Koyo, RBC, NSK, KBC, and more. All of our parts are In-Stock and Ready-to-Ship in order to help minimize downtime. Search our inventory by part #, category, or manufacturer to find the parts you need. For further assistance, contact us at: sales@ironwingsales.com or 216-912-9089.
Acknowledgement
Schematic images via University of Cambridge / SKF