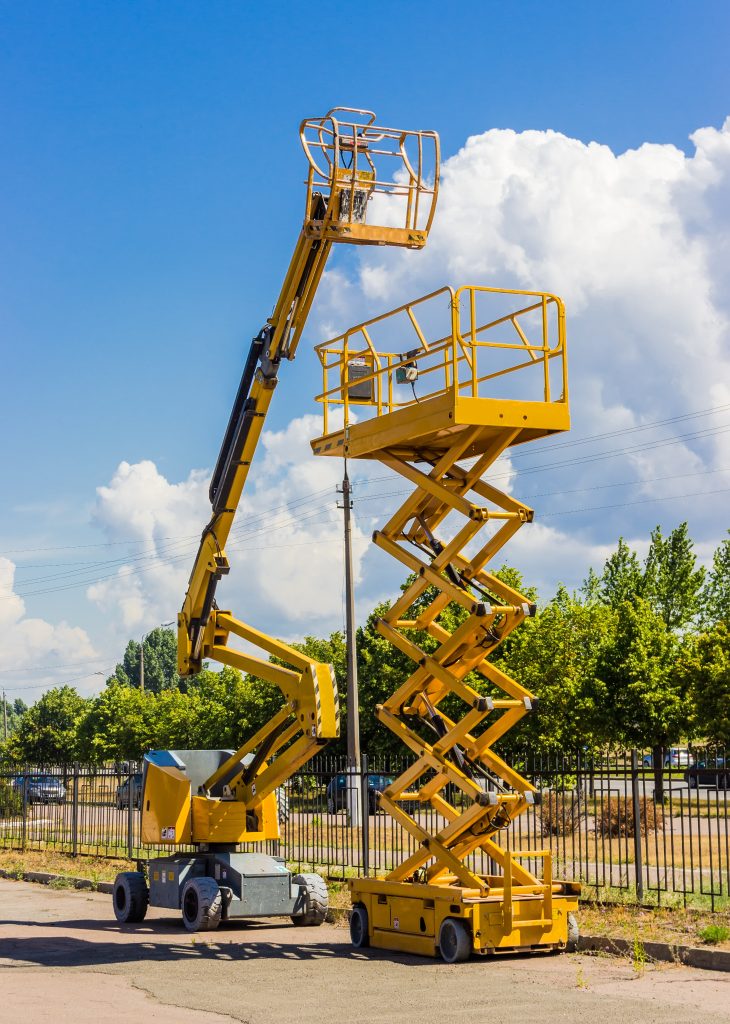 What are Aerial Lifts?
Before discussing the uses and classifications of aerial lifts, let's start by defining them.
Aerial lifts are defined by the American National Standards Institute (ANSI) as "machines/devices intended for moving persons, tools, and material to working positions, consisting of at least a work platform with controls, an extending structure, and a chassis."  The ANSI and the Scaffold and Access Industry Association (SAIA)  are responsible for setting the A92 industry standards which manufacturers, dealers, owners, users, and operators should adhere to.
The A92 standards call for the use of "Mobile Elevating Work Platforms" while referring to these machines, though they were previously (and interchangeably) referred to as aerial lifts, aerial work platforms (AWPs), manlifts, powered platforms, and vehicle-mounted work platforms. For an additional definition and safety information regarding the use of aerial lifts, refer to the Occupational Safety and Health Administration (OSHA). MEWPs are used to complete work at varying heights above ground level, commonly for maintenance and construction purposes. Aerial lifts have replaced ladders and scaffolding in many applications.
Classifications of MEWPs
There both "group" and "type" classifications for MEWPs which are set by the ANSI. The two groups are:
Group A: vertical projection of the platform is inside the tipping lines at maximum inclination in all
platform configurations
Group B: all other aerial lifts in which the boom extends past the chassis, typically identified as boom-type aerial lifts
Beyond the group classification, there are also type classifications as well. These include:
Type 1: Can only be driven in the "lowered" or stowed position
Type 2: Can be driven while elevated, but is controlled from the chassis
Type 3: Can be driven while elevated and can be controlled from the work platform
A lift is classified as some combination of group and type, such as: Group A, Type 2, or  Group B, Type 3, and so on.
Common Types of MEWPs
Aerial lifts can vary in many ways, as seen above by the multiple group and type combinations. Lifts can also have wheels or tracks, as well as different methods of raising and lowering, as well as other differences. The type of lift used depends on a number of factors regarding its application. These factors can include terrain, height, number of workers, amount of materials, and more. There are many variations of the lifts mentioned in this post depending on the intended applications. For a more exhaustive list, check out this article. Here are a few of the most common types of aerial lifts: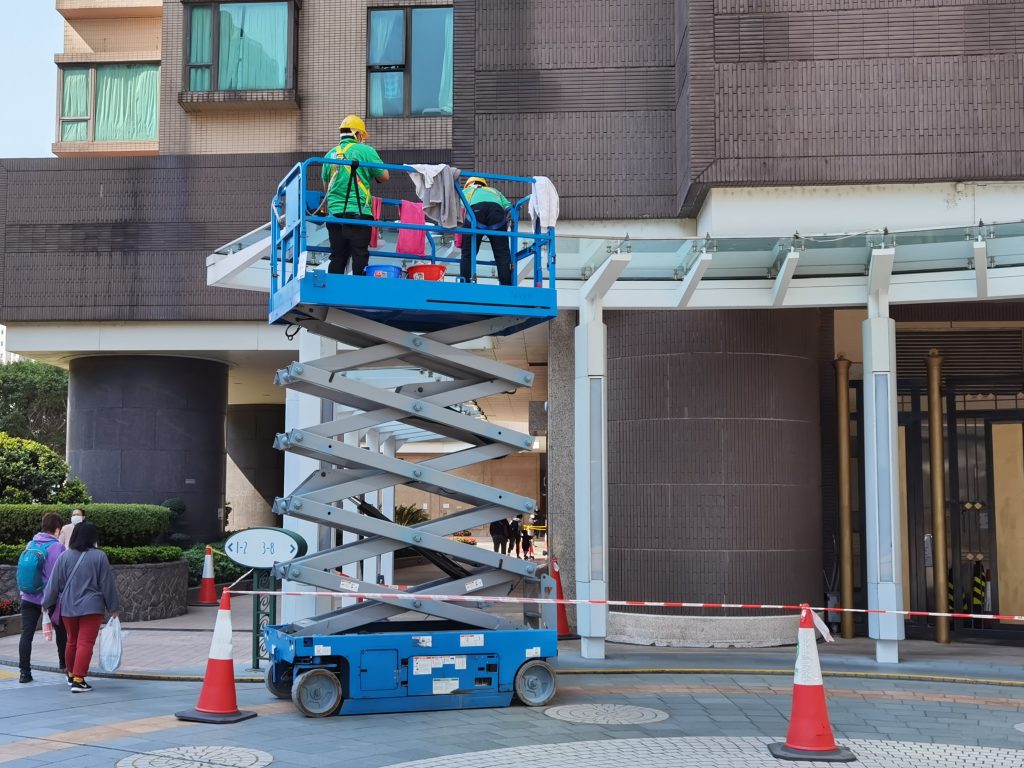 Scissor Lift
Scissor lifts consist of a platform that raises directly above the base to low to medium heights. The action of the platform is hydraulic while the drive motor can be powered by electricity or internal combustion (gas, propane, diesel). Scissor lifts are narrow with a tight turning radius, making the electric models ideal for indoor or warehouse applications. There are two main types of scissor lifts: slab and rough-terrain.
Slab scissor lifts are typically electric-powered and intended for use on smooth, level surfaces while rough-terrain lifts have more robust tires and four-wheel drive to better handle difficult conditions. Rough-terrain lifts usually have a higher reach and load capacity than slab lifts as well. Scissor lift platforms can also be outfitted with attachments to assist in applications such as plumbing, electrical, cutting, and welding.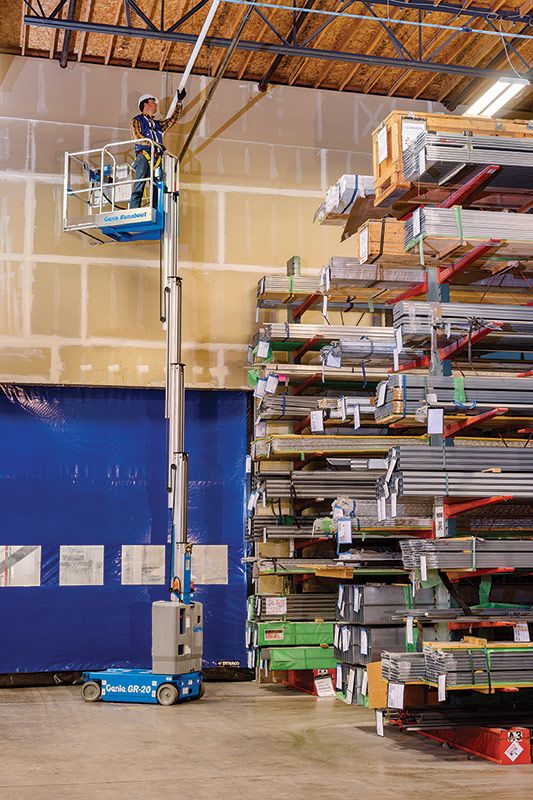 Vertical Mast Lift
Vertical mast lifts are similar to scissor lifts in that they extend above their base, but differ in the mechanism used to raise the platform. Mast lifts use telescoping sections as opposed to the extending scissor mechanism. Some may even have a boom at the end of the telescoping sections. Vertical mast lifts have a much smaller footprint and are generally electrically powered, though some are powered manually using a hand crank. These lifts are useful for single worker applications at low to medium heights, typically indoors.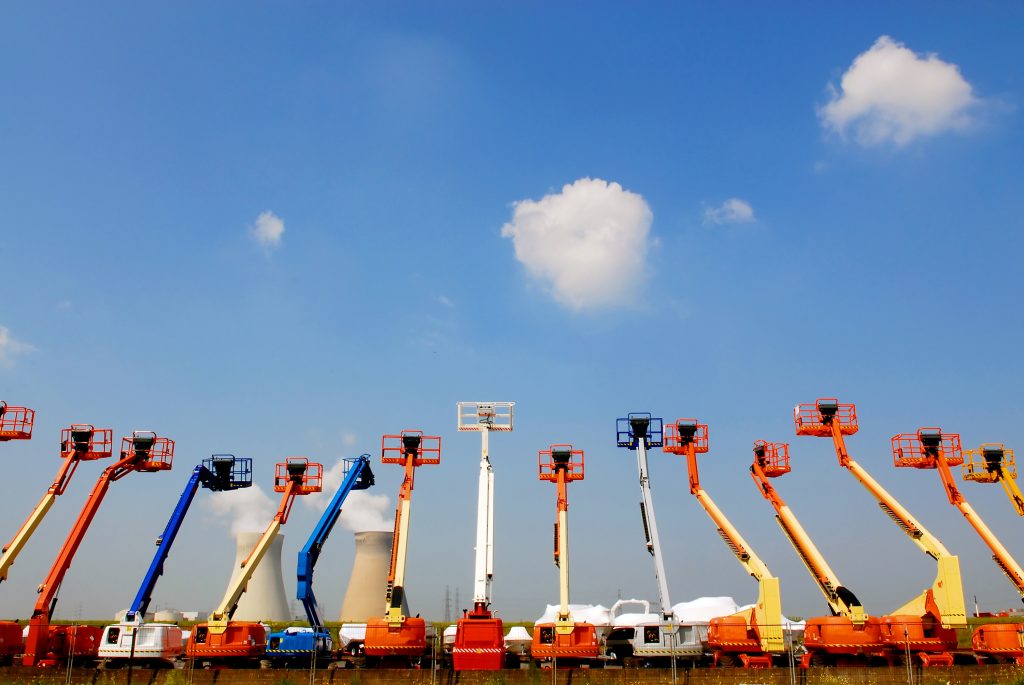 Boom Lifts
Also called cherry pickers or basket cranes, boom lifts consist of a hydraulically powered crane and platform (or bucket) extending from a grounded base. Boom lifts can be attached to a truck or van rather than being a standalone piece of equipment. Boom lifts can operate using either electricity or internal combustion much like scissor lifts, but boom lifts are capable of reaching much higher. The two main types of booms are straight (or telescopic) and articulating.
Telescopic booms have a platform at the end of a rigid, telescoping arm. Although the lack of joints in the arm results in limited maneuverability, its stiffness does provide increased stability. Straight booms can reach higher than any other aerial lifts. Articulating booms consist of multiple boom sections that can articulate and bend over and around obstacles. This allows workers access to hard-to-reach places. Articulating booms can also extend much higher than scissor lifts, and can even fold up more compactly than telescopic booms when not in use.
Aerial Lift Parts at Iron Wing Sales
At Iron Wing Sales, we have parts for all of your forklift and aerial lift needs. We carry a large inventory of genuine OEM and USA-made aftermarket parts. Our parts are In-Stock and Ready to Ship now in order to help you minimize downtime. Search our inventory by part #, category, or manufacturer. For further assistance, contact us at: sales@ironwingsales.com or 216-912-9089.