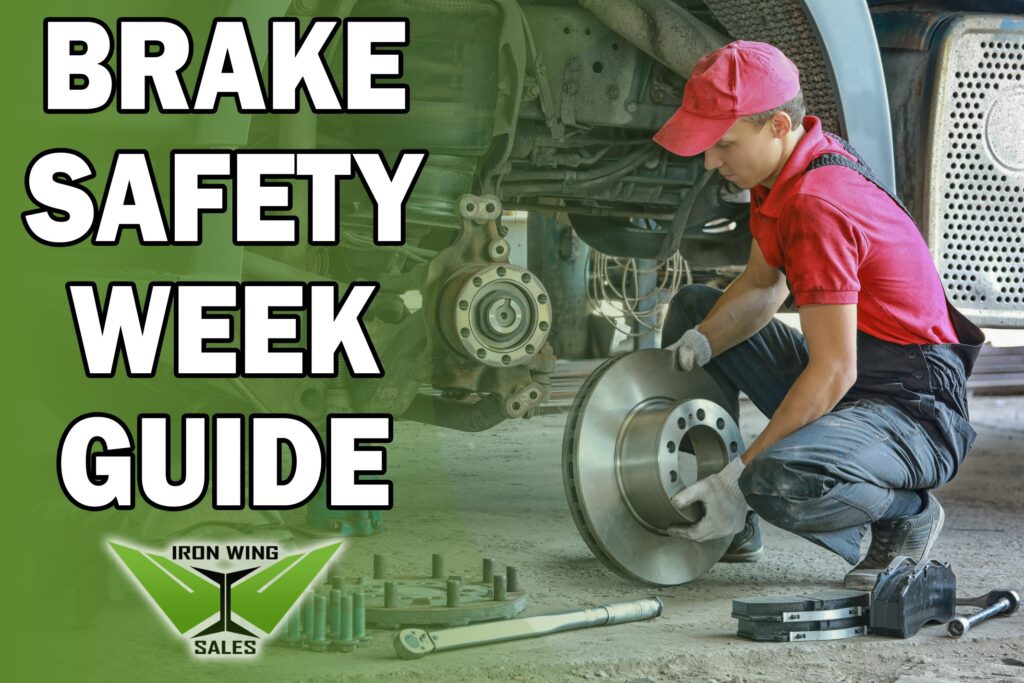 As the Commercial Vehicle Safety Alliance (CVSA) gears up for Brake Safety Week, an annual initiative aimed at enhancing road safety in North America, the spotlight is on a critical component of every commercial vehicle: brake lining and pads. This year's Brake Safety Week (August 20th-26th) places a particular emphasis on the condition of these crucial elements, recognizing their significant role in vehicle safety. In this article, we'll delve into the importance of maintaining well-functioning brake linings and pads, and we'll provide valuable tips from commercial motor vehicle inspectors to ensure your vehicle passes roadside inspections with flying colors.
Why Brake Lining and Pad Condition Matters:
Brake lining and pad issues aren't just minor concerns – they can lead to serious consequences. Inadequate brake linings and pads can result in vehicle violations and impact a motor carrier's safety rating. On CVSA's Unannounced Brake Safety Day earlier in 2023, over 11% of vehicles stopped were deemed unfit and unsafe for roadways. Considering the pivotal role brakes play in preventing accidents and ensuring the safety of the driver, passengers, and other road users, prioritizing brake maintenance is paramount.
Top Tips for Ensuring Brake Lining and Pad Safety:
Thorough Pre- and Post-Trip Inspections: Incorporate a comprehensive examination of visible portions of the brake lining and pads as part of your pre- and post-trip inspections. Regular inspections help detect issues early and ensure the brakes are functioning optimally.
Spotting Missing Lining: Inspect brake drums for signs of missing lining, characterized by grooves resulting from rivet contact. Address any instances of missing lining promptly to maintain effective braking.
Ensuring Adequate Clearance: Evaluate the shoe-to-drum clearance and confirm that there is sufficient lining on the shoe. Proper clearance is essential for optimal brake performance.
Detecting Leaks: Scrutinize hubs and other components for signs of leaks that may be contaminating the lining or pad surface. Leaks can compromise the efficiency of the braking system.
Check Lining Blocks: Verify that there are no missing blocks, which can have a significant effect on braking effectiveness.
Check for Cracks and Voids: Examine the lining blocks for any visible cracks or voids. Address any irregularities promptly to maintain consistent braking performance.
Secure Rivets and Blocks: Check for exposed rivets or loose lining blocks on the shoe. Ensuring the secure placement of these components prevents unexpected braking issues.
Inspect Disc Brakes: If your vehicle is equipped with disc brakes, pay special attention to the condition of the rotor. Look for signs of heavily rusted rotors across the friction surface or any indications of metal-to-metal contact.
Adhere to Manufacturer Guidelines: When undertaking repairs, ensure that they align with the brake manufacturer's requirements and guidelines. Proper repairs are essential for maintaining safe braking performance.
Document and Report: Note any identified issues in your driver vehicle inspection reports and promptly communicate these concerns to the motor carrier. Timely repairs are crucial to address defective linings or pads.
The CVSA's Brake Safety Week safety initiative serves as a reminder that brake safety is crucial in the world of commercial vehicles. By adhering to the tips provided and maintaining a proactive approach to brake maintenance, we contribute to safer roadways for all. For additional resources, here is a cheat sheet for a North American Standard Roadside Vehicle Inspection, as well as a list of inspection bulletins. Data from past years can also be found here.
Brake Parts at Iron Wing Sales
Looking for replacement brake parts for your heavy duty truck or commercial vehicle? Iron Wing Sales has the parts you need! We carry a large inventory of wear parts such as brake shoes, pads, drums, and much more. At Iron Wing Sales, we are your global parts resource. Our inventory contains a range of genuine OEM parts, including New Old Stock (NOS) and other hard to find parts. We have parts from Haldex/Midland, Bendix, Carlisle, and many other manufacturers in-stock and ready-to-ship! Browse our heavy duty truck parts inventory categories or use the search function to search using part #, description, or manufacturer. Contact us with any parts inquiries via email at: sales@ironwingsales.com or by phone at: 216.912.9089